BIOGRAPHY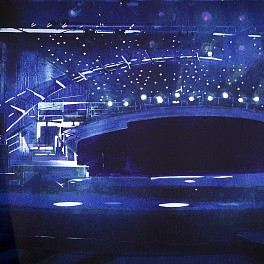 Born in 1979 in Israel. Dishon currently lives and works in Tel-Aviv. He graduated with honors from the Hamidrasha - School of Art, Beit Berl Collage, Israel. Dishon specializes in New Media and his work explores the material presence of light in a given space.

Dishon's unique images are created by exposing a paper cutout to the light of a scanner. By blocking the light or allowing it through, the flat paper's function is to create and sustain a dichotomy of void and substance. The final outcome is inter-medial, and lays somewhere between the realms of photography, drawing, and sculpture. It has no volume or surface, no time and no set place. It exists in the metaphysical space where the alien and the familiar, the obvious and the hidden cannot be clearly defined.

Since his graduation in 2009, Dishon has exhibited at Circle 1 Gallery, Berlin; Jerusalem Artists House, Jerusalem; Petah Tikva Museum of Art, Petah Tikva; , Erez Israel Museum, Tel Aviv ; NIMAC Art Centre, Nicosia, Cyprus; Art Beijing, Beijing; and Fresh Paint Art Fair, Tel- Aviv.
He has been the recipient of several awards: Miron Sima Visual Arts Award (2012); AICF Scholarship for Excellency in Art (2010); Award for Excellence in Art, Hamidrasha, Israel (2009).

Dishon's works are in private and public collections including the Israel Museum Collection, Jerusalem; The SIP Collection, Shpilman Institute for photography, Tel Aviv; Ha'poalim Bank Collection, Israel; Petch Tikva Museum Collection, Petach Tikva; and START Collection, Serge Tiroche, Jaffa.