BIOGRAPHY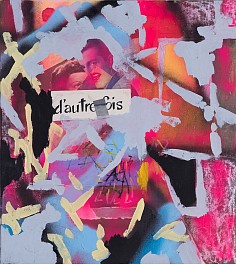 Gilad Kahana (b. 1970, Mexico), is a musician, writer and multidisciplinary artist who lives and works in Tel Aviv. His artworks have been exhibited in solo and group exhibitions at Hezi Cohen Gallery, Tel Aviv, Fresh Paint 8 art fair, Janko Dada Museum, Ein Hod, and Sussie's Art Bay, Tel Aviv. He is the recipient of the 2015 Israel National Lottery Landau Prize for Arts and Sciences, and of the 2018 Author of the Year ACUM Award.
Kahana is lead singer in the band Girafot and the duo Lo Kohot. He has written songs for Dudu Tassa, Eviatar Banai, Yuval Dayan, Hadag Nahash, Berry Sakharof, Balkan Beat Box, Boaz Sharabi, Goran Bregović, Riff Cohen, Ishay Levi, Rockfour, Harel Skaat, Arkadi Duchin, Yehudit Ravitz, Yoni Bloch, Muki, David Broza and others.
Kahana has published three books: The Punctuation of Unknowns, (Even Hoshen, 2013); A Crane Points to the Sea, (Hakibbutz Hameuchad, 2009); Plan for a Recovery from Disaster (Keter, 2003).
In 2015 Kahana starred in the leading role in the film A Tale of Love and Darkness, alongside Natalie Portman. He also appeared the film The Man in the Wall and had guest roles in the TV series My Successful Sisters, and Kacha Ze.
Elad Kopler - Born in Ramat Gan, Israel in 1974, Kopler currently lives and works in Tel-Aviv. He received his B.Ed. from Hamidrasha School of Art, Biet Berl in 2004 and graduated with distinction from Bezalel Academy of Art and Design, MFA program, in Jerusalem, in 2006.
Kopler's work has been showcased in solo and group exhibitions including the Tel-Aviv Museum of Art, Tel-Aviv; Haifa Museum of Art, Haifa; Petach Tikva Museum of Art; The Nahum Gutman Museum of Art, Tel-Aviv; Habres & Partner, Vienna; VOLTA13 Basel Art Fair 2017, Basel; and VOLTA NY Art Fair 2016, New York.
Kopler has been the recipient of many awards and recognitions, amongst them are the Award Scholarship, Hamidrasha School of Art Beit Berl College; Award for Excellence, Bezalel Academy of Art Design; America-Israel Cultural Foundation; Young Artist Award, Ministry of Science Culture & Sport; and the Rappaport Prize for Young Painter, Tel Aviv Museum of Art.
Kopler's works are kept in collections worldwide including the Collection of Tel Aviv Museum for Contemporary Art (Israel); The Collection of Petach Tikvah Musuem for Contemporary Art (Israel); Bank Ha'poalim Collection (Israel); Philip Hofer Collection, NY (USA); Sam & Yael Bacharach, NY (USA); and numerous private collections.