BIOGRAPHY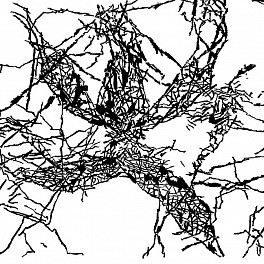 Israeli artist Daniella Sheinman (b. 1947) engages in painting and installation in her studio, located in a spacious hangar in Moshav Hemed. She is married and the mother of three.
Sheinman studied painting and sculpture at the Avni Art Institute, Tel Aviv between 1972 and 1975. Her teachers included Yehezkel Streichman, Moshe Propes, Yaacov Wexler, and Moshe Sternschuss. At the time, She created figurative paintings in oil on canvas.
In 1983 she met the late artist, Haim Kiewe, who had a profound impact on her artistic path. Subsequent to their encounter, she shifted to abstract painting in acrylic on large-scale canvases. In 1987 these paintings were presented at her solo exhibition at Gordon Gallery, Tel Aviv.
In the early 1990s Sheinman shifted to mixed media, working in pencil and graphite on canvas. These paintings were exhibited in 1994 at the Haifa Museum of Modern Art.

Another dramatic change and a significant development in her work occurred when Sheinman stopped using color and began painting exclusively in black and white on large canvases. The abandonment of color coincided with a profound insight that spawned the feeling that the black graphite lines form a fuller and more focused essence of her artistic expression.

In 1996 Sheinman staged a large-scale installation at the Bayerische Vereinsbank, Frankfurt, Germany. The exhibition consisted of canvas scrolls whose total length amounted to some 60 meters, bearing scores of paintings in the aforementioned black-and-white technique. Alongside the canvas scrolls she installed wooden bars, and at the center of the structure - a sculpture made of canvas dipped in plaster of Paris, reminiscent of a mummy or a large white silent sarcophagus. Entitled Interior Space, the installation addressed the boundaries of man's external and internal spaces. In 1998 it traveled to Sotheby's House, Tel Aviv, and in 1999 it was presented at the Ludwig Museum in Koblenz, Germany alongside a painting exhibition entitled Variations on Botticelli's Venus.

Sheinman's unique language is the result of a painting technique that originates in sketches on small paper sheets akin to work plans. These are subsequently transferred to large canvases. Through this Sisyphean work process she imprints, nearly carves, the grayish-black hue of the graphite onto the large-scale canvases. These paintings were featured in Sheinman's 2002 solo exhibition at the Museum of Israeli Art, Ramat Gan.

The 9/11 catastrophe in New York and the cumulating experiences of the Intifada (Palestinian Uprising) in Israel left an indelible mark on Sheinman's art. For an entire month she created dozens of sketches for paintings describing her experiences and feelings. For the past eighteen months she has been working on her new exhibition on the subject, likewise consisting of paintings in graphite on large canvases.